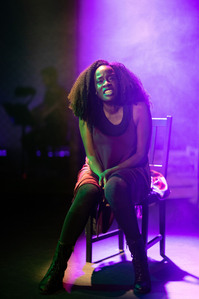 SHIDA
written and performed by Jeannette Bayardelle
Alex assisted on the London transfer of the Off-Broadway musical, in its production at The Vaults.
The production was nominated for 3 Offies - NEW MUSICAL • FEMALE PERFORMANCE IN A MUSICAL - Jeannette Bayardelle • DIRECTOR - Andy Sandberg
SHIDA tells the true story of Shida Brown, an African-American girl growing up in New York. Tracing the ups and downs of her life, her dreams and heartbreaks, the story is told through the eyes of the characters who love her most, including her mum, best friend Jackie and teacher Ms Smalls.
Set to a contagious score of rock, jazz, R& B and gospel music played live by an onstage band, SHIDA is a daring and funny, sad and joyous story performed with heart and soul in a Tour-de-Force performance by Jeannette Bayardelle.
Jeannette Bayardelle (Broadway's The Color Purple, Girl from the North Country)
Director - Andy Sandberg
Musical Supervisor - Joshua Zecher-Ross
Scenic Designer - Charlie Corcoran
Lighting Designer - Clancy Flynn
Sound Designer - Chris Drohan
Musical Director - Noam Galperin
Stage Manager - Becky Thornton