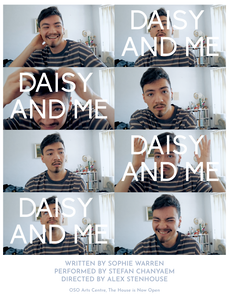 DAISY AND ME
Written by Sophie Warren
Performed by Stefan Chanyaem

OSO Arts Centre, The House is Now Open, Online Video (2020)
Written as a monologue for screen, the piece was written and rehearsed entirely in self isolation, collaborating entirely via Zoom during the Covid-19 outbreak April 2020, to create a piece of online theatre.
Joe is just a normal 25 year old guy trying to move on in the mortifying world of online dating, but it turns out it's harder than it looks... especially when you have a 4 year old daughter.

"In conclusion, briefly, ha, erm, Daisy is mint, she's a great kid, the best thing in my whole entire world no question. She's the funniest thing you wouldn't even believe- things she comes up with are just- top banter like. She's fab. She doesn't need another mum- there's not pressure like that the one she has... had...has? Whatever, was top notch, we loved her- but yeah. I mean... life's shit. Sometimes. You know. Not your problem. "