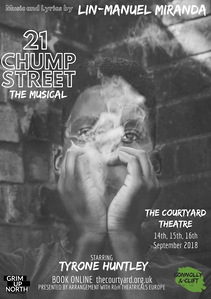 21 CHUMP STREET by LIN-MANUEL MIRANDA
Courtyard Theatre, London.
The true story of Justin Laboy, a high school student who falls in love with new girl Naomi, who is actually an undercover cop.
CREATIVE TEAM
Producer: Connolly and Clift Ltd.
Associate Producer: Grim up North Ltd.
Direction: Lizzy Connolly
Choreography: Simon Hardwick
Musical Direction: Ed Bussey
Designer: Josie Lee
Sound Design: Andy Johnson
Lighting Design: Robert Ogilive
Assistant Director: Alex Stenhouse
Associate Choreographer: Josh Baker
Rehearsal Keys: Geddy Stringer
CAST
Narrator: Cedric Neal
Justin: Tyrone Huntley
Naomi: Natalie Green
Telvin: Matthew Caputo
Derek: Shiv Rabheru
Andrew: Miles Barrow
BAND
Drums: Joe Evans
Bass: Richard Coughlan
Guitars: Byran Smith
Violin: Claire Taylor
Cello: Dave Hornburger
The piece also featured other performances alongside the 15 minute musical.
DANCING DINNER LADIES
Gen Nicole, Samuel Buttery and Jamie Rose Monk

BIKE SHED ACOUSTIC PERFORMERS
Katrina Kleve, Flo Fields, Alice Strachan

The audience were guided around the immersive production by Hall Monitors, who were directed by Alex Stenhouse.
HALL MONITOR VOLUNTEERS
Sofia Kika, Eleanor Greaves, Layla Langton, Emily Mae Norrish, JJ van As, Jasmine Slaney, Guenevere Lambert, Amann de Souza Neves, Rebekah Hutton & Becky Girard.

-----
ALL PHOTOGRAPHY
Melanie Gail Photography: